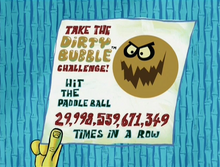 SpongeBob's Number is equal to 29,998,559,671,349. The number appeared in an episode of SpongeBob SquarePants called "Have You Seen This Snail?", where SpongeBob is given a challenge of hitting a paddle ball this many times in a row called "the dirty bubble challenge". The name was coined by Googology Wiki user Cookiefonster.[1] It may be the number of times the paddle ball has to hit the dirty bubble in order to pop him.
Even with a constant 4 hits per second, the challenge would still take a minimum of about 238,000 years.
SpongeBob's Number is a prime number.
Approximations
Sources
Community content is available under
CC-BY-SA
unless otherwise noted.