The octa-petaxis (formerly octa-petaksys) is equal to E1#1#1#8 in Hyper-E notation.[1] The term was coined by Sbiis Saibian. In up-arrow notation, this number is equal to \(10\uparrow\uparrow\uparrow\uparrow 8\).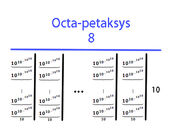 Username5243 calls this number Tetooctol, and it's equal to 10[4]8 in Username5243's Array Notation.[2]
Approximations in other notations
Sources
See also
Community content is available under
CC-BY-SA
unless otherwise noted.