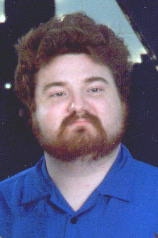 Jonathan Bowers (also called Hedrondude or Jabe, born November 27, 1969 in Tyler, Texas) is an American amateur mathematician, considered "the father of modern googology."[1][2] He introduced Array Notation to the public in 2002, a simple function that defines provably larger numbers than Knuth arrows, Steinhaus polygons, or chained arrows. Years later, with help from Chris Bird and John Spencer, Bowers developed a generalization called BEAF, which competes with many of the larger functions in the fast-growing hierarchy.
Bowers has coined many colorful names for numbers that he has defined, such as dossol and trongulus. His largest number is Utter Oblivion, though his most famous number is meameamealokkapoowa oompa, formerly his largest number.
Outside of large number studies, he is best known for his work with polytopes, shapes like polyhedra and polygons as well as their higher-dimensional analogues. He reportedly began his search for uniform polychora (4-dimensional polytopes) in the 1990s, independently discovering many of the currently known uniform polychora and coining names for them.
Bowers has coined a total of 352 googologisms as of Feburary 2016, which was a record, until it was surpassed by Sbiis Saibian, another famous googologist.
Like Chris Bird, he has a Master's degree in mathematics.[3]
Sources
↑ Saibian, Sbiis. The Astounding Work of Jonathan Bowers. One to Infinity. Retrieved February 2013.
↑ Bowers' website in 2002, archived in One to Infinity
External links
See also
Community content is available under
CC-BY-SA
unless otherwise noted.