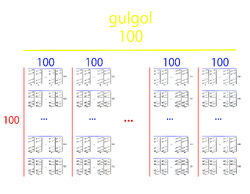 The gulgol (short for '*gulp* googol', previously 'gulf googol') is equal to E100##6 = E100#100#100#100#100#100, using Hyper-E notation.[1] Gulgol is comparable to Bowers' goggol. The term was coined by Sbiis Saibian.
Aarex Tiaokhiao calls this number hextowergol.[2]
Approximations in other notations
Sources
See also
Community content is available under
CC-BY-SA
unless otherwise noted.