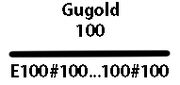 Gugold (short for 'golden googol', formerly goolda) is equal to E100##100, using Extended Hyper-E Notation.[1][2] The term was coined by Sbiis Saibian. Gugold is comparable to Bowers' boogol, Hyperon, and Woogol.
This number is also called gugond or googonhectol.
Approximations in other notations
Sources
See also
Community content is available under
CC-BY-SA
unless otherwise noted.