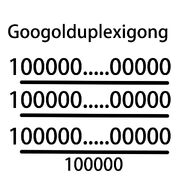 Googolduplexigong is equal to E100,000#3 = EEE100 000 = 101010100,000, using Hyper-E Notation.[1][2] The term was coined by Sbiis Saibian. It is equal to one followed by a googolplexigong zeros. It is 1010100,000+1 digits long.
Writing down the full decimal expansion would take 1010100,000-6 books of 400 pages each, with 2,500 digits on each page (except for the first, which would have 2,501).
Approximations
Sources
See also
Community content is available under
CC-BY-SA
unless otherwise noted.