Not to be confused with Googoldeciplex, or googolplexidex.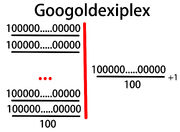 The googoldexiplex is equal to E100#(googol+1) = 101010...10100 (googol+1 10's) = 10googoldex in Hyper-E Notation.[1] The number has been devised by Sbiis Saibian to show how negligible to use -plex prefix on tetrational-sized numbers.
Approximations in other notations
Sources
See also
Community content is available under
CC-BY-SA
unless otherwise noted.