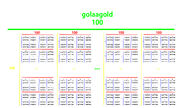 The golaagold (short for 'golden golem googol', also called golaagond, formerly golaada) is equal to E100##100##5 = E100##100#100#100#100#100, using Extended Hyper-E Notation.[1][2] The term was coined by Sbiis Saibian.
Approximations in other notations
Sources
↑ Saibian, Sbiis. Extended Hyper-E Numbers. One to Infinity. Retrieved 2015-05-26.
See also
Community content is available under
CC-BY-SA
unless otherwise noted.