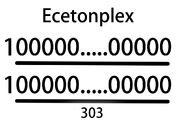 The ecetonplex (also called a centillionplex) is equal to E303#2 = EE303 = 1010303, using Hyper-E notation.[1][2] The name was coined by Sbiis Saibian. It is equal to 1 followed by a centillion zeroes. It is much larger than a googolplex. In fact an ecetonplex is greater than a googolplex raised to the power of a googol, which is (1010100)10100 = 1010200 (also known as gargoogol-plexed). It is 10303+1 digits long.
When Sbiis Saibian was young, he called this number centillionillion.[3] It is the only name for a large number he came up with during his childhood. Note that "centillionillion" is not a technically accurate name for this number; logically, "centillionillion" should mean the centillionth -illion, or 103*10303+3 (also called mehectillion). Sbiis Saibian himself notes this on his website.
Written out in decimal form ecetonplex is:
Writing down the full decimal expansion would take 10297 books of 400 pages each, with 2,500 digits on each page.
Names in -illion systems
In the short scale, it is also called:
ten trestrigintatrecenmillitrestrigintatrecenmillitrestrigintatrecenmillitrestrigintatrecenmillitrestrigintatrecenmillitrestrigintatrecenmillitrestrigintatrecenmillitrestrigintatrecenmillitrestrigintatrecenmillitrestrigintatrecenmillitrestrigintatrecenmillitrestrigintatrecenmillitrestrigintatrecenmillitrestrigintatrecenmillitrestrigintatrecenmillitrestrigintatrecenmillitrestrigintatrecenmillitrestrigintatrecenmillitrestrigintatrecenmillitrestrigintatrecenmillitrestrigintatrecenmillitrestrigintatrecenmillitrestrigintatrecenmillitrestrigintatrecenmillitrestrigintatrecenmillitrestrigintatrecenmillitrestrigintatrecenmillitrestrigintatrecenmillitrestrigintatrecenmillitrestrigintatrecenmillitrestrigintatrecenmillitrestrigintatrecenmillitrestrigintatrecenmillitrestrigintatrecenmillitrestrigintatrecenmillitrestrigintatrecenmillitrestrigintatrecenmillitrestrigintatrecenmillitrestrigintatrecenmillitrestrigintatrecenmillitrestrigintatrecenmillitrestrigintatrecenmillitrestrigintatrecenmillitrestrigintatrecenmillitrestrigintatrecenmillitrestrigintatrecenmillitrestrigintatrecenmillitrestrigintatrecenmillitrestrigintatrecenmillitrestrigintatrecenmillitrestrigintatrecenmillitrestrigintatrecenmillitrestrigintatrecenmillitrestrigintatrecenmillitrestrigintatrecenmillitrestrigintatrecenmillitrestrigintatrecenmillitrestrigintatrecenmillitrestrigintatrecenmillitrestrigintatrecenmillitrestrigintatrecenmillitrestrigintatrecenmillitrestrigintatrecenmillitrestrigintatrecenmillitrestrigintatrecenmillitrestrigintatrecenmillitrestrigintatrecenmillitrestrigintatrecenmillitrestrigintatrecenmillitrestrigintatrecenmillitrestrigintatrecenmillitrestrigintatrecenmillitrestrigintatrecenmillitrestrigintatrecenmillitrestrigintatrecenmillitrestrigintatrecenmillitrestrigintatrecenmillitrestrigintatrecenmillitrestrigintatrecenmillitrestrigintatrecenmillitrestrigintatrecenmillitrestrigintatrecenmillitrestrigintatrecenmillitrestrigintatrecenmillitrestrigintatrecenmillitrestrigintatrecenmillitrestrigintatrecenmillitrestrigintatrecenmillitrestrigintatrecenmillitrestrigintatrecenmillitrestrigintatrecenmillitrestrigintatrecenmillitrestrigintatrecenmillitrestrigintatrecenmillitrestrigintatrecenmillitrestrigintatrecenmillitrestrigintatrecenmillitrestrigintatrecenmillitrestrigintatrecenmillitrestrigintatrecenmilliduotrigintatrecentillion
According to Landon Curt Noll's The English name of a number, ecetonplex is also known as:
ten trecentretriginmillia^100trecentretriginmillia^99trecentretriginmillia^98trecentretriginmillia^97trecentretriginmillia^96trecentretriginmillia^95trecentretriginmillia^94trecentretriginmillia^93trecentretriginmillia^92trecentretriginmillia^91trecentretriginmillia^90trecentretriginmillia^89trecentretriginmillia^88trecentretriginmillia^87trecentretriginmillia^86trecentretriginmillia^85trecentretriginmillia^84trecentretriginmillia^83trecentretriginmillia^82trecentretriginmillia^81trecentretriginmillia^80trecentretriginmillia^79trecentretriginmillia^78trecentretriginmillia^77trecentretriginmillia^76trecentretriginmillia^75trecentretriginmillia^74trecentretriginmillia^73trecentretriginmillia^72trecentretriginmillia^71trecentretriginmillia^70trecentretriginmillia^69trecentretriginmillia^68trecentretriginmillia^67trecentretriginmillia^66trecentretriginmillia^65trecentretriginmillia^64trecentretriginmillia^63trecentretriginmillia^62trecentretriginmillia^61trecentretriginmillia^60trecentretriginmillia^59trecentretriginmillia^58trecentretriginmillia^57trecentretriginmillia^56trecentretriginmillia^55trecentretriginmillia^54trecentretriginmillia^53trecentretriginmillia^52trecentretriginmillia^51trecentretriginmillia^50trecentretriginmillia^49trecentretriginmillia^48trecentretriginmillia^47trecentretriginmillia^46trecentretriginmillia^45trecentretriginmillia^44trecentretriginmillia^43trecentretriginmillia^42trecentretriginmillia^41trecentretriginmillia^40trecentretriginmillia^39trecentretriginmillia^38trecentretriginmillia^37trecentretriginmillia^36trecentretriginmillia^35trecentretriginmillia^34trecentretriginmillia^33trecentretriginmillia^32trecentretriginmillia^31trecentretriginmillia^30trecentretriginmillia^29trecentretriginmillia^28trecentretriginmillia^27trecentretriginmillia^26trecentretriginmillia^25trecentretriginmillia^24trecentretriginmillia^23trecentretriginmillia^22trecentretriginmillia^21trecentretriginmillia^20trecentretriginmillia^19trecentretriginmillia^18trecentretriginmillia^17trecentretriginmillia^16trecentretriginmillia^15trecentretriginmillia^14trecentretriginmillia^13trecentretriginmillia^12trecentretriginmillia^11trecentretriginmillia^10trecentretriginmillia^9trecentretriginmillia^8trecentretriginmillia^7trecentretriginmillia^6trecentretriginmillia^5trecentretriginmillia^4trecentretriginmillia^3trecentretriginmillia^2trecentretriginmilliatrecenduotrigintillion
Approximations
Sources
↑ https://sites.google.com/site/largenumbers/home/4-3/foray A 2nd Grader's Close Encounter with the Infinite - Large Numbers by Sbiis Saibian
See also